St. Peter's Church traces its earliest history to congregations and class meetings which met on sites between Mountain Road on the south and Old Ridge Road (near the Ashland Berry Farm) on the north. Few records remain of these 18th and early 19th century Methodists. In the 1780s, Bishop Francis Asbury established what many historians believe to have been the first Sunday School in America, in the home of Thomas Crenshaw, on Mountain Road not far from the present site of St. Peter's.
In 1850, remnants of the earlier congregations moved to property on Route 611 (now St. Peter's Church Road), a scant ½ mile south of the present church. At first the congregation worshipped in an arbor of trees; Peter Massie, a charter member and trustee, built a white frame church by 1852. After its completion, the church was named St. Peter's, partly for the fisherman-disciple and partly for the man who helped establish the congregation.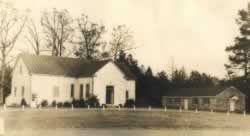 Until the 1950s St. Peter's was one of several churches comprising the West Hanover Circuit, in which the pastor's financial support and his services were shared among the circuit churches. The church built additions and made improvements periodically, including a separate, concrete block Sunday School building.
The one acre church site on Rt. 611 was too small for the growing congregation. In the 1960s, the church trustees purchased 15 acres on Rt. 33 and in 1966 the congregation built a new church.
As designed, the new church was the 6,000 square foot first unit of an eventual two-unit structure. This first unit contained eight classrooms, a fellowship hall, kitchen, and bathrooms. People worshipped in the fellowship hall sitting on folding metal chairs until such time as the second unit sanctuary could be built. In the late 1970s, when it became apparent that a new sanctuary was not imminent, the church carpeted the tile floor and added wooden pews.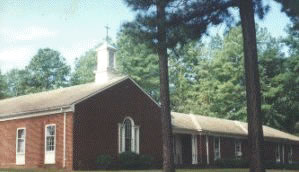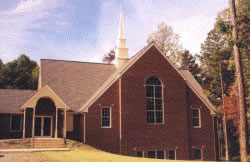 Throughout the last 30 years members continued to give generously to a wisely invested Building Fund. Finally, in 1999, St. Peter's built the long-anticipated two-story sanctuary and classroom addition, allowing the former sanctuary to be used as a fellowship hall. More than doubling the square footage, the new facility positions St. Peter's United Methodist Church to serve the western Hanover community well into the 21st century.